How To Find The Best Bridal Makeup Artist In West Palm Beach?
Here's Everything You Need To Know About Our Wedding Makeup Artist
Finding the right makeup artist for your wedding is about more than just scheduling an appointment, it's a process of creating an everlasting memory. You need a professional makeup artist that understands that your wedding is more than just a moment. It is a life-changing experience. With this in mind, Kosmetike Beauty Salon offers professional bridal makeup artist services to West Palm Beach residents.
Believe it or not, we understand how much energy goes into getting ready for your wedding. Therefore, we want to help you enjoy your big day with a remarkably stunning new look that takes everyone breath away. Come experience your new bridal makeover with West Palm Beach's best makeup artist for you. Fill out the free online form below and schedule your free appointment today.
If you act now, you will receive a FREE consultation. It just takes a few seconds. That's more than enough time to get the best wedding makeover. Remember, you're still shopping. So, why not make it easier, and start with the best makeup consultants.
Fill out the free online form above.
If you still want to learn more about our professional makeup artist services for West Palm Beach residents, keep reading.
Why Should You Hire Our Wedding Makeup Artist In West Palm Beach
Chances are, if you're looking for a professional bridal hair and makeup artist to help you get ready for your big day, you're probably wondering why you should hire someone. However, we recommend you take a few things into consideration before you attempt to do your own makeup for your wedding.
1. A professional wedding makeup artist can help you save time a. It's no secret. Time is of the essence. You need a reliable makeup artist that keep up with your busy schedule. Kosmetike Beauty Salon Makeup Artist helps you do your makeup right the first time with no inconveniences. Our makeup consultants are trained to help you. Bridal Makeup Artist offer high-quality makeup supplies
3.Wedding Makeup Artist Offer An Expert Opinion.
Our bridal makeup artist a certified cosmetologist with a thorough understanding of beauty an makeup. Unlike most West Palm Beach Makeup Artist, we take the time to help you look beautiful and protect your skin.
2. There's no substitute for outstanding makeup products that leave your true radiance glowing. Our wedding makeup artist provides West Palm Beach clients with first-hand access to the world's top makeup supplies. Our strategic method of makeup application has proven to last with no smears or imperfections.
4.Bridal Makeup Artist Understand Color Theory
Finding the right blend is an exciting task. However, over the years it has proven to be quite meticulous. With this in mind, our professional makeup artist has found a way to help you find the right blend for you in just a matter of seconds.
5. We Are The Most Reliable Makeup Artist Near You. There's nothing quite like having a makeup artist that you can trust on your side. Our bridal makeup consultants have proven that we can serve West Palm Beach wedding brides anywhere anytime. Whether you're searching for makeup artist studio, or you're looking for a mobile makeup artist, Kosmetike Beauty Salon has you covered.
6. Our Wedding hair and makeup artist are committed to provide you with non-stop satisfaction. Therefore, we work with you to help you find the best look for you. There's no limit to what our professional makeup artist can do for you. We are ready to go above and beyond to ensure that you have the best wedding ever.
How Much Does It Cost To Hire A Wedding MakeUP Artist
For West Palm Beach residents looking for an affordable bridal makeup artist, look no further. Our wedding makeup consultants have put together a full set of hair an makeup packages for your wedding. And, don't worry, if you can't make it to our makeup artist salon, we also offer mobile makeup artist that work on site. That's right. Our professional makeup artist will great lengths to ensure that your wedding goes perfect.

If you want to explore our incredible selection of makeup artist services and packages, take a look below. We are certain, that with just a little information, you will be able to quickly figure out which services are the best for you.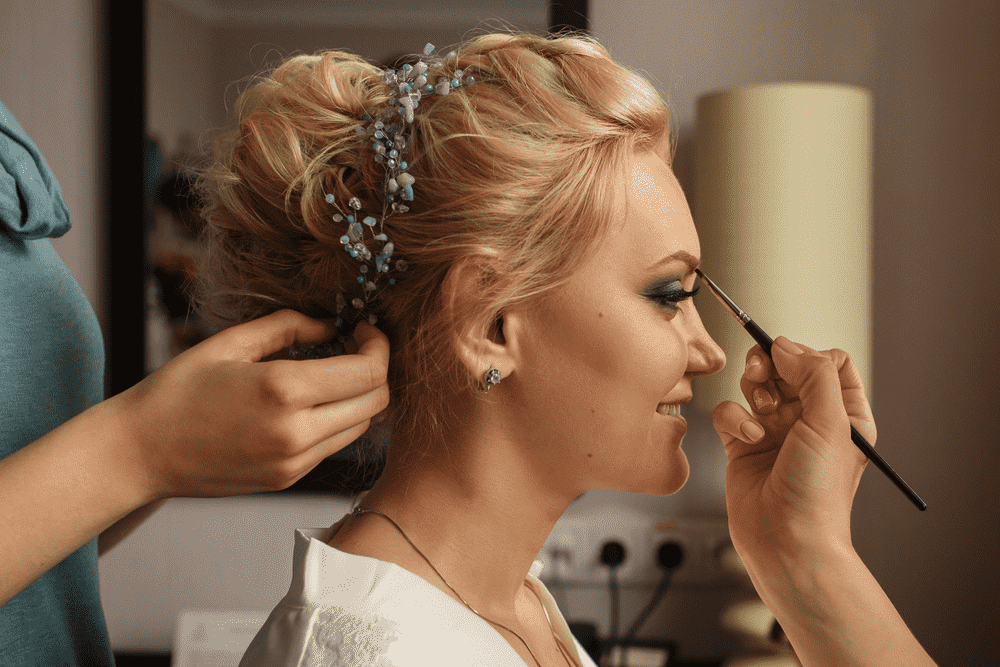 Bridal Makeup Artist Prices
For wedding brides who only choose to have their makeup done without any additional services for the bridal party, we offer a 1 on 1 appointment with our master makeup artist at $100
Our bridal only makeup services include:
Makeup application
Custom fit false lashes
Lip Touch Up
And More
Brides Maids Makeup Artist Services
Starting at $85, we offer brides maids an exclusive one on one appointment with our lead makeup artist. During this time, we offer brides maids:
-Fully Customized Wedding Day Makeup
-Custom fit lashes
-Lip Touch Up
- 45 minute appointment
Ready To Book Your WEdding Make UP Artist
Now that you have read about our professional makeup artist, come see why so many people in West Palm Beach are choosing us as their favorite bridal makeup artist. Give yourself the wedding makeover that you deserve. Aren't you worth it. If so, give us a call today. Let our professional makeup consultants help you find the best wedding makeup looking for you. Trust us. Once we are done, you will wish you would of consulted with our west palm beach wedding makeup artist sooner. So, what are you waiting for?
Fill out the free online form above. If you want to save time, give us a call today at 561-352-4659.